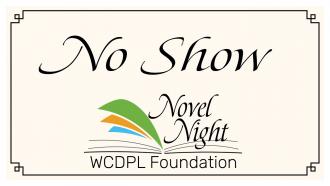 This year, due to the challenges presented by COVID-19, we decided to throw a party and asked that no one attend.  Instead of attending a big event, we asked you to show your support for the library simply by staying home.
Our No-Show Novel Night was a big hit! You stayed away in droves, while opening your hearts wide in your support of the library.
We are so glad you decided to stay home, kick back and enjoy a new book. Feel good knowing that your contribution will make a big difference in the lives of local readers young and young-at-heart.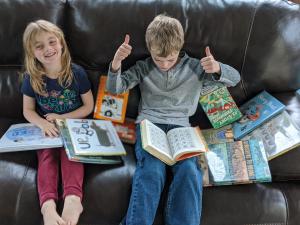 P.S. It's not too late for those wishing to join in the support for this wonderful "No-Show" evening; you may do so by using this link to the No Show Novel Night Secure Donation Form. Alternatively, you can mail a check payable to WCDPL Foundation, 251 North Main Street, Bowling Green, OH 43402.  Please put "No-Show" in the memo line.
---
We want to recognize those who stepped up to support No-Show Novel Night. Your support makes a difference. Every dollar donated will buy new books for the library. Thank You!
Anonymous
Robert & Patricia Maurer
Al & Mary Green & Family
J. Christopher & Ellen Dalton
Joseph & Judith Condan Family Fund of the Greater Toledo Community Foundation
Friends of the Wood County District Public Library
Whalen Realty & Auction
Steven & Pamela Conlin
Farmers & Merchants State Bank
First Insurance Group
John Fawcett & Kris Phillips
Maggie Fawcett & Bryan Hartzler
Kenneth & Pamela Frisch
Mike Kuhlin
Mike & Terri Marsh
Michael Penrod & Kenneth Housholder
Premier Bank
State Bank
John & Debbie Strawman
Wood County Insurance Agency, Inc.
Roger Anderson
Joe & Peg Baker
C.J. Barnes
Becky Bhaer
Clif & Judy Boutelle
Anne Bowers
John & Alice Calderonello
Sue Clanton
John & Cynthia Eckel
Richard & Nadine Edwards
Robert & Deborah Feehan
Rebecca Ferguson
Chris & Jean Geist
Heather McEwen Goldman
Milton & Lee Hakel
Sharon Hanna
Hartung Brothers, Inc.
Alexander Penrod Housholder
Judy Hudson
Joseph & Elayne Jacoby
Carol W. Jones
Melissa Krieger
Stephen & Jeanne Langendorfer
Robert E. Latta
Naomi Lee
Mr. & Mrs. Leonard Lepper
Carl & Kay Lipp
Jonathan Main Plumbing, Heating, & Cooling, LLC
Chris MacDonald
Carole Matthews
David Maurer
Penelope McMorris
Fred & Kathy Miller
Jason D. Miller
Gail & Laurence Nader
David & Susan Potter
Bob & Winnie Rex
Shad Ridenour
Jane C. Robb
Chris Roudebush
Roger & Barbara Sanchez
Jane Schimpf
Teri Sharp
Michael Sibbersen
Colleen Smith
Deb Smith
Jeffrey & Lee Anne Snook
Cheryl Sokoll
Bob Stout Insurance Agency, Ltd
Jenny & Brian Swope
Josephine Vernon
Larry & Fran Weiss
Kristin Wetzel
George & Susan Winters
J. Kevin & Marsha Yarnell