As the Ohio Vaccination Program continues, Information Services staff can help patrons locate one of the vaccination sites in our service area. Though we are not a vaccination site, we are also happy to assist those who have technology concerns or issues with reserving an appointment.  For help, please contact Information Services at (419) 352-5050.
At-Home COVID-19 Test Kits
WCDPL is distributing free, at-home COVID-19 test kits. To pick up a test kit, patrons can call (419) 352-5050 to request for pickup in Bowling Green, or call (419) 666-9900 to request for pickup in Walbridge. Kits are distributed through Curbside Service only at this time. See our Curbside Service hours.
Vaccination Sites & Information:
Ohio Department of Health Vaccine Provider Location Search
Ohio Department of Health COVID-19 Vaccination Information
See the most recent State and Local Coronavirus updates at:
3/29/21 - Vaccinations are now available for all Ohioans age 16+.
3/19/21 - Gov. DeWine outlined Phase 2C, which includes all Ohioans age 40+, and 1E, which includes Ohioans with health concerns.
3/8/21 - Gov. DeWine outlined Phase 1D and Phase 2B of Ohio's Vaccination Program. See details here.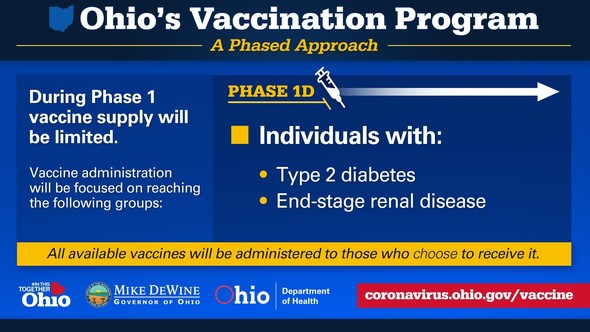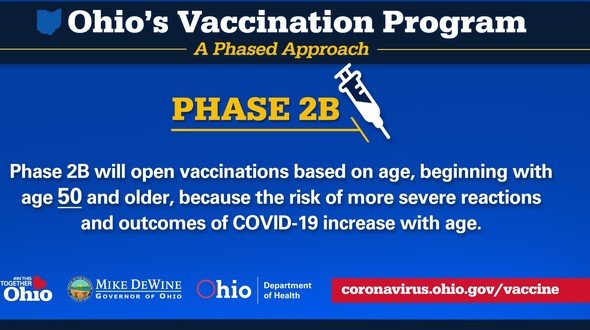 3/1/21 - Gov. DeWine outlined the timeline for Phase 1C of Ohio's Vaccination Program. See details here.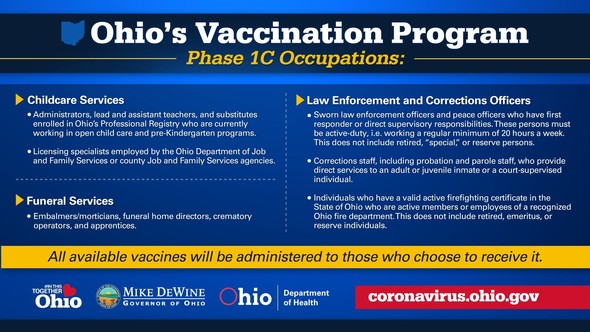 2/20/21 - Get more information on the Ohio Vaccination Program with Town Halls
Whether you hear myths on social media, at work, or from friends or family, there is a lot of dangerous misinformation out there about COVID-19 vaccines. The truth is that COVID-19 vaccines are safe, effective, and rigorously tested. Ohio's COVID-19 Vaccine Town Halls are designed to help you sift through the myths and learn where you can find reliable, trustworthy information about COVID-19 vaccines. 
You've got a questions, and the upcoming Town Halls will give you answers. Hear from medical experts, community leaders, and public health professionals. Learn more about Town Halls here.
1/19/21 - Gov. DeWine outlined the timeline for Phase 1B of Ohio's Vaccination Program. See details here.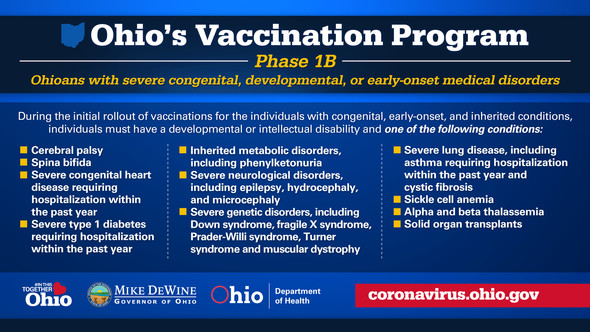 1/12/21 - Gov. DeWine updated on Phase 1A and reemphasized the vaccine distribution timeline for Phase 1B of Ohio's vaccination program with those ages 80 and older. See details here.
12/4/20 - Gov. DeWine announced phased approach to Ohio's COVID-19 Vaccination Program. See details here.
From Library Director Michael Penrod, November 12, 2020:
WCDPL Patrons,
The Governor's Office specifically asked the Ohio Library Council to share Governor DeWine's message below with Ohio's public library community. 
Our library, as an organization that values accountability, expertise, teamwork, and respect, shares the Governor's message because we are ALL in this together. We act, not in fear, but with resolve to help our families, friends, and neighbors.
Sincerely,
Michael Penrod,  WCDPL Director
From the Governor's Office:
New Mask Guidance from CDC
The Centers for Disease Control and Prevention (CDC) recently issued new guidance regarding masks and their benefit to help prevent infected people from spreading the coronavirus to others. The new guidance cites a number of studies showing that masks reduce the risk of transmitting or catching the virus by more than 70% in various instances.
https://www.cdc.gov/coronavirus/2019-ncov/more/masking-science-sars-cov2.html
In addition, they released updated information how to protect yourself and others.
https://www.cdc.gov/coronavirus/2019-ncov/prevent-getting-sick/prevention.html
Important COVID-19 Update from Gov. DeWine
Governor DeWine delivered a statewide address this evening regarding COVID-19 and the drastically increasing spread we are seeing in Ohio. His office asked that OLC share the following message with members 
WHERE WE ARE NOW
Ohio is experiencing a more intense surge in COVID-19 cases, hospitalizations, ICU admissions across the entire state. 
In September, Ohio averaged under 1,000 cases a day. Today, Ohio reported our second highest number of cases at nearly 5,900. Some believe that the only reason we are seeing more cases is because more testing is being done. We do have more testing available throughout the state, but while testing has not yet doubled, cases have almost quadrupled.
Last week, Ohio had just under 2,000 COVID patients in hospitals throughout the state. But today, one week later, Ohio is approaching 3,000 patients. A month ago, 240 patients with COVID were in the ICU receiving critical care. As of today, more than 700 Ohioans are in the ICU.
We know how to beat this virus. We need to stick to the basics: wash your hands; wear your mask even when you're with friends and family; stay socially distanced; work from home when you can; and stay at home when you are sick. 
We cannot pick and choose when we follow this guidance. We have to follow it every single day if we want to beat this virus.
WHAT WE ARE DOING
New Mask Order
 

Most businesses are doing a good job ensuring that COVID-19 safety guidelines are being followed. However, it is clear that there are some businesses where mask-wearing is lacking.

We have a responsibility to employees and customers to ensure that Ohio's businesses are as safe as possible.

Governor DeWine will ask the Department of Health to reissue the mask order that's been in place since July 23rd to include the following new provisions:

Each business will be required to post a Face Covering Requirement sign at each public entrance.

Each business will be responsible for ensuring that customers and employees are wearing masks.

A new Retail Compliance Unit, led by the Bureau of Workers Compensation, will be inspecting to ensure retail compliance. A first violation of this order will bring about a written warning and a second violation will bring about closure of the store for up to 24 hours.
New Social Gathering Order
There has been an order in place since April to limit gatherings to no more than 10 people.

Despite the order, there is rampant spread of the virus from banquets, wedding receptions, and social gatherings following funerals. It's not the ceremonies, it is at the parties afterwards.

A new order will place significant new restrictions on these social activities. Open congregate areas can no longer be open. The new order requires everyone to be seated and masked unless they are actively consuming food or drinks and prohibits things such as dancing and games.
Restaurants/Bars/Gyms
If the trend continues and cases keep increasing, we will be forced to close restaurants, bars, and gyms one week from tomorrow (11/19).

These are locations where it is difficult or impossible to maintain mask-wearing. Mask wearing is our chief way of slowing down the spread of the virus.
Schools
The vast majority of our K-12 schools are doing a fantastic job. However, a surge in communities threatens a districts' ability to keep teachers in the classroom.

Our colleges and universities have taken strong action to keep their cases low and their campuses safe. Many have agreed to not return to in-person learning after Thanksgiving for the remainder of the semester. Unless we dramatically slow the community spread of this virus, higher education institutions may have to remain virtual when class
___________________________________________________________________
Follow the library's developing policy and response during the novel coronavirus pandemic in the messages from Library Director Michael Penrod below and in the attachments at the bottom of this page.
June 4, 2020:
Dear WCDPL Library Patrons,  I am amazed that we are in June. It feels like the library just hosted a visit by astronaut Dr. Mae Jemison. However, that happened on March 9 – right before everything closed. Since that time, the library has been re-inventing itself in order to provide library services in the time of a global pandemic.
Our online content has expanded across several platforms such as Libby and Hoopla. We are seeing growing usage of e-books, e-audiobooks, and digital music and movies. We are working to meet local demand by acquiring additional online resources and platforms.
Library programs and story times have moved into the digital realm.  Just go to the library webpage or Facebook page to see all of the amazing Fun-Size story times and other videos created by library staff. The team has created a suite of online opportunities for individuals and families to learn and explore.
Our Summer Reading Program, "Imagine Your Story," has also gone online.  Please submit a short video recommending a favorite children's book.  More information is available on the webpage.
On May 18, curbside service began at both the Bowling Green and Walbridge libraries.  In the first two weeks of the service, over 700 patrons have borrowed close to 4,000 physical items. We hope the statewide delivery service that shuttles items from library to library will resume delivery in late June.
On June 8, both buildings will begin offering contact-free home delivery of books and other items. This experimental service will run from 1:00pm to 4:00pm weekdays.
The team continues working to prepare the buildings to welcome visitors. We hope to be able to do so at some point in early July. Until then, we will continue to acquire PPE and proper cleaning materials, moving furniture to ensure social distancing, maintaining and expanding digital resources and services, performing enhanced cleaning of facilities, etc.
We thank you for your patience.  We also thank you for the many kind words of encouragement shared over the past months via cards, posts, email, and phone. Your support and understanding really help!
Sincerely,
Michael Penrod, June 4, 2020
Due Dates Resume for Borrowed Materials
Library users, please note that any materials checked out before WCDPL closed on March 15 in response to Coronavirus safety guidelines now have a due date of Friday, June 12. You may return any borrowed items you've been holding on to by using the book drop built into the North wall of the Bowling Green building (or, for the Walbridge library, built into the South wall, just right of the Watershed filling station).
Items borrowed prior to March 15 which have not been returned or renewed by June 12 will start receiving overdue notices.
You may renew your items yourself via the online catalog and logging into your library account with your card number and PIN (usually the last 4 digits of your phone number).
Wood County District Public Library Begins Curbside Pick-Up
Starting Monday, May 18, patrons of the Wood County District Public Library can pick up materials they have requested at both library locations.
To use the service:
Patrons call 419-352-5050 to request items for pick-up in Bowling Green.
To request items for pick-up at the Walbridge library, patrons call 419-666-9900.
Bowling Green hours for pick-up service are 9-5 Monday, Tuesday, and Wednesday, and 10-6 on Thursday and Friday.
Walbridge library hours for pick-up service are 9 am to 1 pm Monday and Wednesday, and 2 pm to 6 pm on Tuesday and Thursday.
Patrons can also place requests using the library's catalog at https://wcdpl.org. However, since there is no delivery between Ohio libraries yet, staff can only pull items that are in the building at the time a request is called in. Patrons in Bowling Green will be limited to 10 movies; patrons in Walbridge will be limited to 3 movies.  
On arrival at the library's parking lot
patrons will call the phone number on the sign in the lot.
Staff will bring their items outside and place them on the table outside the door.
When staff have returned inside the building, patrons can exit their vehicles and pick up their items. 
The library is following guidelines for safe handling of library materials, so staff will not be able to accept returns during pick-up service.
To return items, use the outside book returns at both the Bowling Green and Walbridge buildings. Patrons should expect a delay in seeing items removed from their accounts while returned materials are held for a quarantine period. 
"We are really excited to be getting physical library materials to our patrons," said Michael Penrod, Director of the Wood County District Public Library. "We will be able to share library resources while also keeping public health and safety at the forefront of what we do." 
Digital materials continue to be available at all times from the library's website at https://wcdpl.org/eMedia.
May 3, 2020
WCDPL (Bowling Green, Walbridge, and Bookmobile) will continue to be closed due to the COVID-19 pandemic and the need to maintain social distancing. We invite all patrons to visit wcdpl.org or the WCDPL Facebook page to use our online services.
Due to the continuing restriction on gatherings over ten people, ALL library programs, events, and the public's use of meeting spaces are cancelled through the end of August. The Foundation's Novel Night benefit in July has been cancelled. Our children's librarians are busy developing an online Summer Reading Program to begin in June.
No meeting space reservations will be accepted for the foreseeable future. Meeting spaces are being converted into staff work areas so that staff can maintain proper social distancing.
Once required PPE and sanitizing products can be acquired, and once definitive guidance can be given in how to handle returned library materials safely (items will need to be quarantined for several days at least before they can be checked back in and reshelved), staff will begin implementing the limited return of library services. 
We thank you for your patience at this difficult time.
Sincerely, 
Michael Penrod
April 30, 2020
WCDPL Board of Trustees will meet in the Library Atrium at 5 pm, Thursday April 30. Members of the public are welcome to attend the non-Executive session of the meeting, but there will be no public participation. Social distancing will be required, and face coverings will be required.
April 20, 2020
A Letter from WCDPL Director Michael Penrod: WCDPL Closed, But Still Serving Community
While I am profoundly sad that WCDPL (Bowling Green, Walbridge, and Bookmobile) is closed for an extended period of time due to the COVID-19 Pandemic, I am exceedingly proud of all the ways the library staff remains busy serving the members of our community during this unusual time.
In addition to increasing current virtual services (buying more e-books, expanding at-home access to databases, etc.), the staff is deploying new services in a virtual format: the Page to Table cookbook club, the Coffee Talk fiction book club, story-times and craft activities for children and families, book recommendations for adults, the Ukelele Club, and more.  Soon, Trivia Night will be offered!
Local history librarians are collecting local information and building a Pandemic Archive so that, in the future, researchers can know how residents in Bowling Green, Walbridge, and the surrounding community weathered the current health crisis.
Secure wi-fi is available outside of both buildings.  See the library's Facebook page for a map showing the best place to park for strong signal. 
Staff members have taken the 3D printers home and are busy printing plastic headpieces for medical face-shields.  These headpieces will be delivered to Dana, manufacturer of the plastic face shield, for local distribution once assembled.  Other library staff are busy making cloth face masks for coworkers to wear once we reopen.
Migrating services to an online format has meant that library staff have had to learn and adapt to new formats and some staff have been taking online courses in order to assist teammates in utilizing these new resources. 
A normal "story time" may have taken 2-3 hours to plan, execute, and clean-up. However, there is a lot of time involved in both "pre-production" and "post-production" of an online event.  For an online "story time", staff need to know the best format to record the story on their phone so that it can be compressed and then emailed to another coworker for online posting.   Considering possible editing of the files, the safe obtaining of props and materials, and the realities of working from home with space limitations and possible interruptions, creating the online product often entails far more actual time and planning than doing a similar "program" at the library itself. 
Our staff have applied themselves to these tasks with a combination of zeal and good humor, and as Director, I am honored and humbled to work with such a dedicated, talented, and creative group in the service of our community.  Please feel free to "Check Out" the library webpage at wcdpl.org or the library Facebook page for more information about all of our activities. 
Thank you, and stay safe.
Sincerely,
Michael Penrod, WCPDL Director
April 3, 2020
In support of the Governor's Extended Stay-At-Home Order, the Wood County District Public Library (Bowling Green, Walbridge, and Bookmobile) will be closed until Monday, May 4, 2020.
In addition, all library events and public use of meeting spaces are cancelled through the end of May. Finally, no meeting space reservations will be accepted for the foreseeable future.
Please keep your items while we are closed.  All due dates will be changed to mid-May for now.
April 2, 2020
The Library Board of Trustees will hold a Special meeting to consider impacts on the library from the COVID-19 pandemic.  The meeting will be at 5 pm on Friday, April 3 and the meeting will be held online via Google MEET.  Public access to this meeting is available via streaming by clicking on the link below
https://stream.meet.google.com/stream/
22a6fb0a-637b-4d2f-8107-3e60d7c05f08 
March 28, 2020 A Letter from WCDPL's Director
Dear Library Patrons, 
Libraries are essential. I truly believe this. The core function of a library is to gather people together to use books and other resources and to support the community's needs for lifelong learning, early literacy support, recreation, and reliable resources. 
But right now, gathering is exactly what we should not be doing. Therefore, in support of the orders from the Governor and the Ohio Department of Health, the library is closed through at least April 6 and all library programs and community usage of meeting spaces are cancelled through at least the end of April.
However, even with the buildings closed, the library is busy enhancing online services to give all of you access to information, literature, and entertainment during this stressful time. 
Below are some of the new or enhanced services the Wood County District Public Library is currently offering via its website wcdpl.org and through the library's Facebook page: 
Patrons without a library card can now get a temporary card at wcdpl.org that works immediately with the Ohio Digital Library, our Flipster online magazine service, and with Hoopla. 
Ohio Digital Library is making Instant Access cards available on their landing page. Ohio residency is verified using a text message to the phone; even if you have an out-of-state phone number, you can use WCDPL's temporary card.
Please remember that Hoopla's e-books, e-audiobooks, movies, music, comics, and TV shows are always available with no waiting, and that Flipster's 85 different magazines are also always available, including back issues.
We have increased the number of Hoopla items you can check out to 25 per month for all patrons with library cards and Hoopla has added a Bonus Collection that doesn't count against the number of items patrons check out.
TumbleBooks provides e-books and other content for younger readers, students, and adults. That resource has dropped the requirement to enter a library card and has added more modules to support learning at home and relaxation. TumbleBooks products are always available, no waiting. 
The new TumbleBooks modules--TumbleBook Library--are available until Aug. 31. They include: TumbleMath (ages K-6); TeenBookCloud (grades 7-12); AudioBookCloud (all ages); and RomanceBookCloud. These modules are be found at TumbleBook Library.
We are sharing information about the library's learning at home resources with Bowling Green Public Schools, as well as the other two school districts within the WCDPL legal service district, Lake and Northwood schools.
For the genealogists in our community, the Ancestry Library Edition database is now available from home through April 30th.
Staff have created short how-to videos for Ancestry Library Edition, Hobbies and Craft Reference Center, and Book Talks. Look for those on the library's FaceBook page, and on wcdpl.org.
For the investors in our community, the Valueline database is allowing up to 30 simultaneous users with a WCDPL library card.
We are extending our Book Bingo contest until the end of April, and you can submit your completed bingo cards by mail or drop them off when we reopen. More information about Book Bingo is found on the library's online calendar.
We are sharing up-to-date COVID-19 news from the state and the county through social media and at the wcdpl.org homepage.
We are bringing back the Ukulele Club in a FaceBook Live format for three Mondays in April, starting April 6. Watch for the announcement on FaceBook.
Finally, are you looking for a positive activity for kids of all ages during our compliance with Gov. Mike DeWine's Stay at Home order? Why not join us in our community #WCDPLBearHug Project? 
        Here's how you and your family can participate:
Put a teddy bear in a front window. 
Download the #WCDPLBearHug coloring sheet from wcdpl.org/WCDPLBearHug, color it in, and place it in your front window. 
Encourage your child to read to their teddy bear and/or set up a Stuffed Animal Storytime at home. 
While out getting exercise and fresh air - enjoy a BEAR HUNT - look for teddy bears or the #WCDPL coloring sheet in your neighbors' windows.
Practice social distancing when you're out looking for bears.
Read the We're Going on a Bear Hunt story, based on the picture book by Michael Rosen and illustrated by Helen Oxenbury together.
Please take photos of things you and your family are doing together and share on social media with #WCDPLBearHug #InThisTogetherOhio. We will look for these photos too and share them on the library's FaceBook page. 
If you currently have library items at home, feel free to keep them until the library reopens. Or you can place them in the 24/7 returns available at both the Bowling Green and Walbridge libraries. Nothing is due back while we are closed. We have changed the due dates and remember, WCDPL is fine free. Just bring the items back when we reopen.
We will get through this together. All of us at WCDPL wish you well as we "stay home" and we look forward to serving you in person when we are able!
Happy Reading (and watching and listening!),
~ Michael Penrod, Director Wood County District Public Library
March 28, 2020
March 22, 2020, UPDATE.
In compliance with the order for Ohioans to stay at home issued by Gov. Mike DeWine, WCDPL (BG, Walbridge, & Bookmobile) will remain closed through at least April 6. Further, all library programs and events and all use of public spaces are cancelled at least through the end of April.
Watch wcdpl.org for updates as they occur, and take advantage of the many electronic resources--from eBooks to audiobooks to magazines & movies to research databases--offered through the website 24/7. Many of these can be used from home without needing to login with your library card. Navigate to wcdpl.org/eMedia and wcdpl.org/research to learn more about these resources.
March 14, 2020.
Out of an abundance of caution the Wood County District Public Library system (Bowling Green, Walbridge, and the Bookmobile)  will remain closed through Tuesday, March 31; at that time, the library will evaluate reopening.
The health of library users and staff remains a top priority, and WCDPL leadership did not make this decision lightly. We know that WCDPL serves as an important community gathering place and provides essential services to its residents. But, we also know that the number of people who pass through our doors each day, makes it extremely difficult to implement the public health guidance as it relates to social distancing and the key role it plays in containing the spread of COVID-19.
While we are closed:
WCDPL's digital services, such as eBooks, downloadable audiobooks, music and movies are still available to library users through the website at

https://wcdpl.org/eMedia

.
Library users should keep any borrowed materials until the library reopens; loan periods for all materials will be extended while the library is closed.
March 11, 2020
The Wood County District Public Library System is closely monitoring information about the Coronavirus (COVID-19). The health and safety of our customers and staff is a top priority. As this situation evolves, information will be updated this page of our website, wcdpl.org/WCDPL_Coronavirus_Information .
Currently all our locations are open and operating under normal schedules. At this time, the library is cancelling all public events and programs through the end of March.
We're working with local health officials and following directions from the U.S. Centers for Disease Control (CDC) and the Ohio Department of Health (ODH). Right now, we are taking additional steps beyond regular practices and cleaning and sanitizing all libraries as much as possible.
Everyone has a role to play in reducing the spread of COVID-19 and staying healthy. Please stay home and do not visit the library if you are exhibiting signs of the flu or if you are not feeling well.
We invite you to explore everything we have to offer on our website, wcdpl.org/eMedia. You can download eBooks and audiobooks on Overdrive, stream movies and checkout eBooks and audiobooks on Hoopla. If you have questions about these resources, please call the library at 419-352-5104.
To stay healthy, the CDC and other health agencies recommend:
Washing your hands frequently. Wash your hands for 20 seconds or more with soapy water. Use an alcohol-based hand sanitizer if soap and water are not available.

Avoid touching your eyes, nose, or mouth with unwashed hands.

Avoid contact with people who are sick.

Stay home and away from others if you are sick.

Clean and disinfect objects and surfaces frequently.

Cover your mouth/nose with a tissue or sleeve when coughing or sneezing.
Trusted Information Sources
Sharing accurate information from trusted sources is critical to reducing misinformation. Find reliable and current information about the outbreak from local and national agencies below.
Ohio Department of Health
The Ohio Department of Health maintains a website with the up-to-date information on the outbreak, current risk to the public, and links to helpful resources. https://odh.ohio.gov/wps/portal/gov/odh/know-our-programs/Novel-Coronavirus
ODH has also set up a call center to address questions regarding COVID-19. It is open seven days a week from 9 a.m.-8 p.m. and can be reached at 1-833-4-ASK-ODH (1-833-427-5634).
Centers for Disease Control
The U.S. Centers for Disease Control (CDC) has set up a website with a range of information about the current risk to the public, symptoms to watch for, prevention, testing, and advice for schools, communities and businesses.
https://www.cdc.gov/coronavirus/2019-ncov/index.html
The situation with the Coronavirus (COVID-19) is evolving daily. We will keep you informed of any changes to our scheduled events. For the latest information, please keep an eye on wcdpl.org.