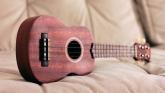 Jason and Sheri Wells-Jensen of the Grande Royale Ukulelists of the Black Swamp live stream the return of the Ukulele Club on the WCDPL's Facebook page on three consecutive Mondays starting April 6. Join them from 2 - 2:30 pm for a fun, informative, musical treat.
Open to all ages. If you have a ukulele, have it ready to play, if you don't have a ukulele sing along or dance along with Jason & Sheri!
To join in, navigate to www.facebook.com/WCDPL/ at 2 pm Monday, April 6, 13, & 20.