Celebrating America's and Ohio's Libraries
National Library Week & Ohio Library Week 
April 4-10 & April 5-9, 2021
During National Library Week, April 4-10, and Ohio Library Week, April 5-9, we encourage all community members to visit the library or explore our website to access services and programs. We offer a wide array of online resources that are available at the library and from the comfort of your home, including a variety of adult and children's programming, research databases and assistance, curbside pickup and personalized reading suggestions, and eMedia resources such as WCDPL OverDrive, hoopla, Flipster, and Tumblebooks.
National Library Week is a time to highlight the essential role that libraries, librarians, and library workers play in transforming lives and strengthening communities. The theme for this year's National Library Week is "Welcome to Your Library," which promotes the idea that libraries extend far beyond the four walls of a building and that everyone is welcome to use their services. Whether people visit virtually or in person, libraries are accessible and inclusive places that foster a sense of belonging and community through learning, discovery, and exploration.
During these challenging times, libraries of all types have been going above and beyond to adapt to our changing world by expanding resources and continuing to meet the needs of patrons. WCDPL is supporting the community with virtual services such as eMedia apps and resources, online databases for career building, research, or homework help, and a variety of online programming.
This National Library Week, the public can show their appreciation and support for libraries by visiting the library in person, exploring our website, or following us on Facebook, Instagram, or Twitter and by using the hashtags #wcdpl and #NationalLibraryWeek.
Check out how we're celebrating National Library Week and Ohio Library Week below!
---
Saturday, April 10
Thank You for Celebrating National Library Week & Ohio Library Week With Us!
What a week it's been! Thank you all for celebrating National Library Week and Ohio Library Week with us. We are so grateful to be a part of the Bowling Green and Walbridge communities, and we are so thankful for all of your support.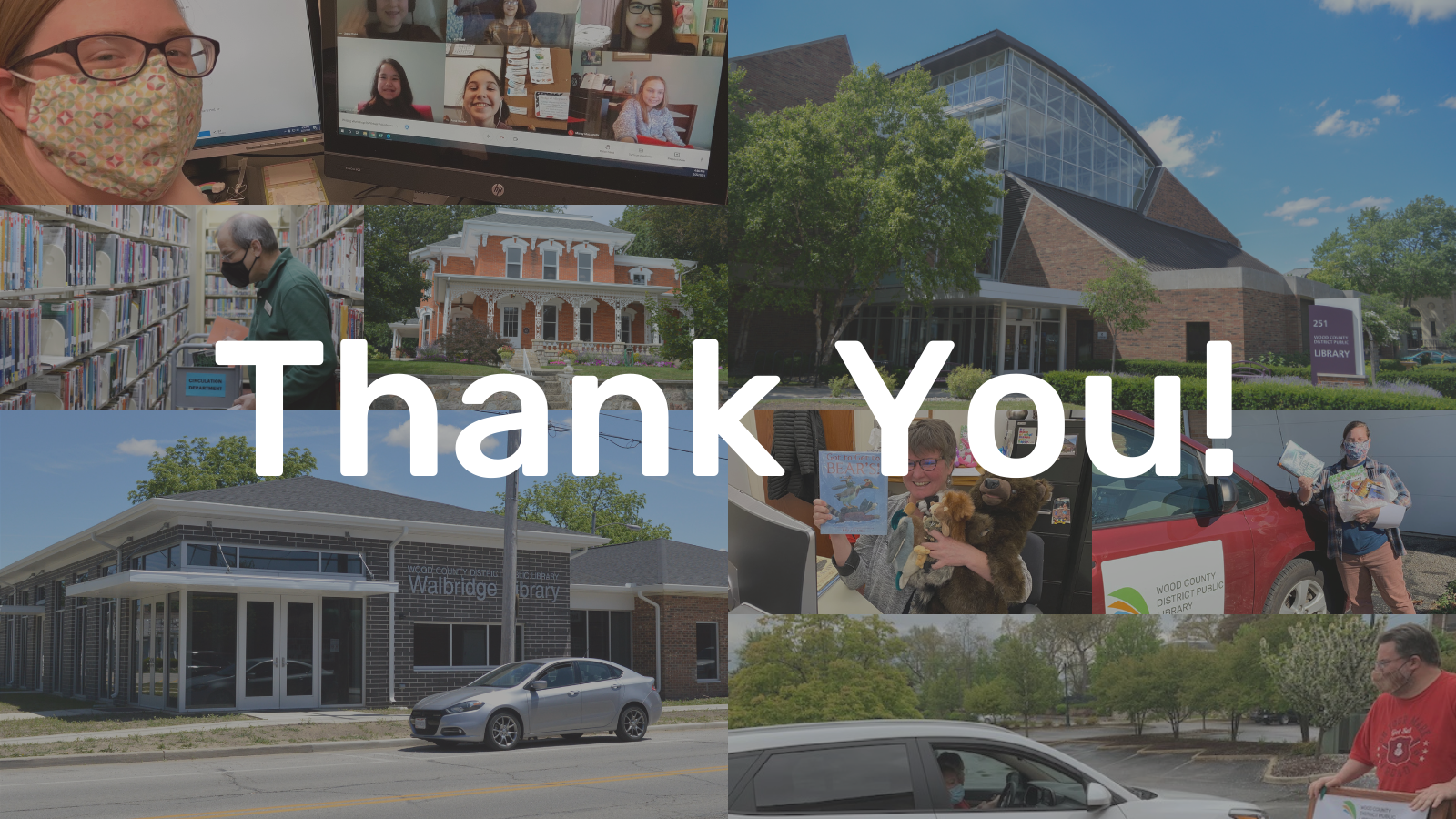 Patron Testimonial - Carmen & Dryw Dworsky
We love our library families!
From Carmen and Dryw Dworsky of Bowling Green:
The library has always been an important resource and for our family — even during this pandemic, that hasn't changed! At a time when each day so often feels like the one before it, being able to get new books in a safe and convenient way has helped to make days just a little more manageable.
Recently, I began calling in to ask a children's librarian for help finding books that would suit our kids. I wish I'd done this sooner and I'm definitely going to keep asking for help well beyond COVID-times. This has not only been a huge tangible experience of support for me, it has been an enormous hit with our little ones and introduced us all to books we'd have never encountered otherwise. A huge thank you goes out to all of the library staff for your hard work, commitment, and kindness. We appreciate you.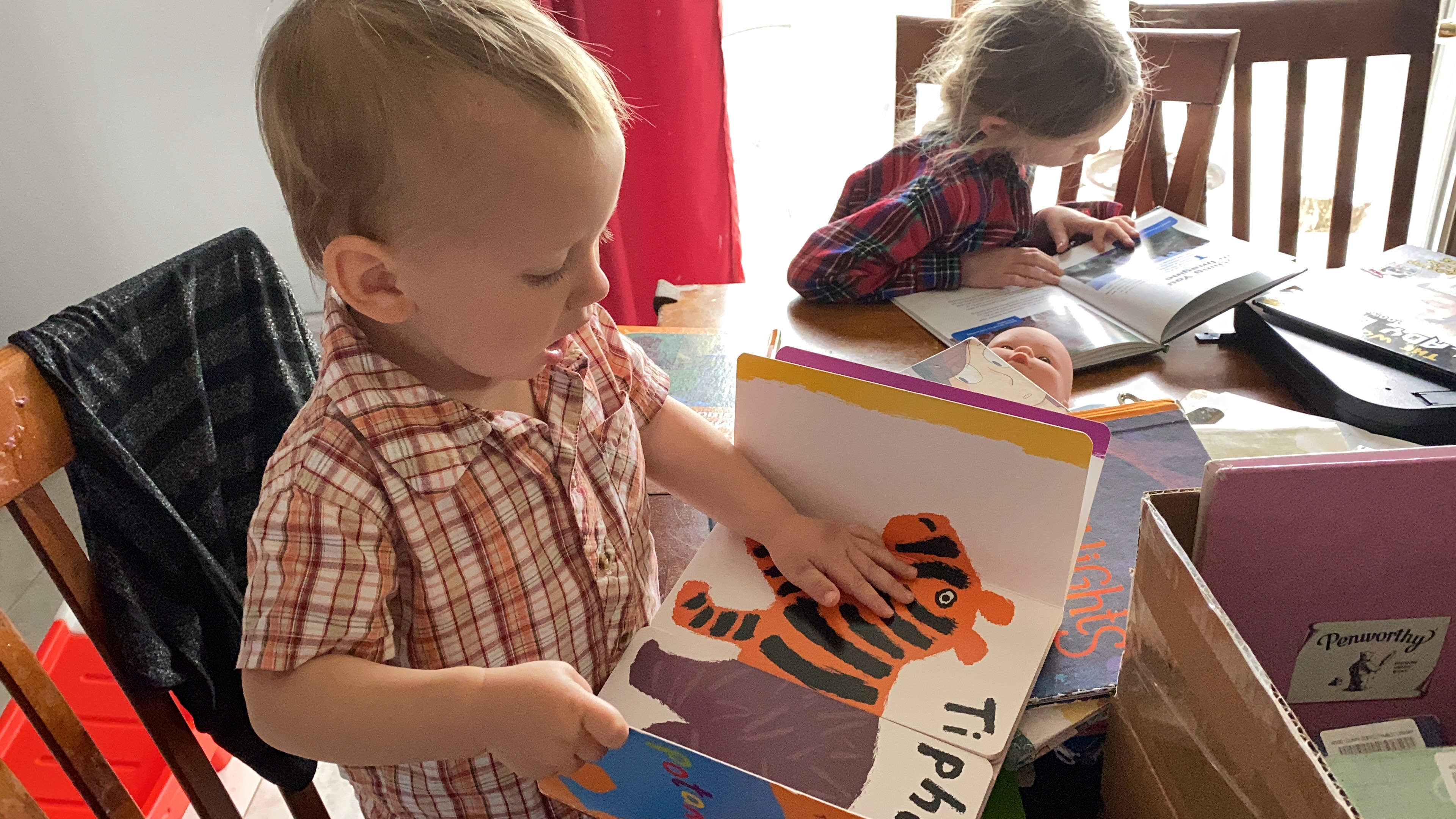 Friday, April 9
WCDPL ROI
For every $1 spent by the library, our patrons get a return on investment of $4.69. That means more books, audiobooks, eBooks, movies, music, and more for you!
Check out our digital collections today and pick up something new. Our monthly item checkout number has increased from 10 to 25 on hoopla!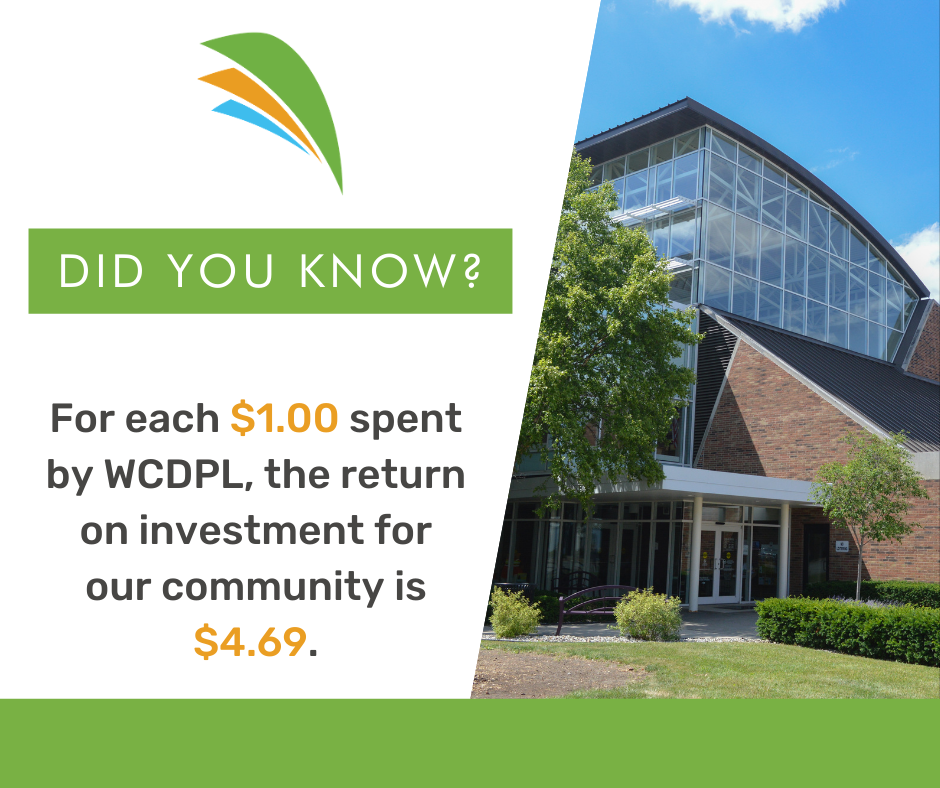 Patron Testimonial - Karin Edstrom
My library, from the day I moved to Bowling Green, has been a focus in my social life here. Thanks to two great book groups, Coffee Talk and Page to Table, I've met treasured friends, including many authors, and shared fun times. The library has also served as my source for educational, inspirational, and varied volunteer experiences through the Friends of the Library organization. I love my library.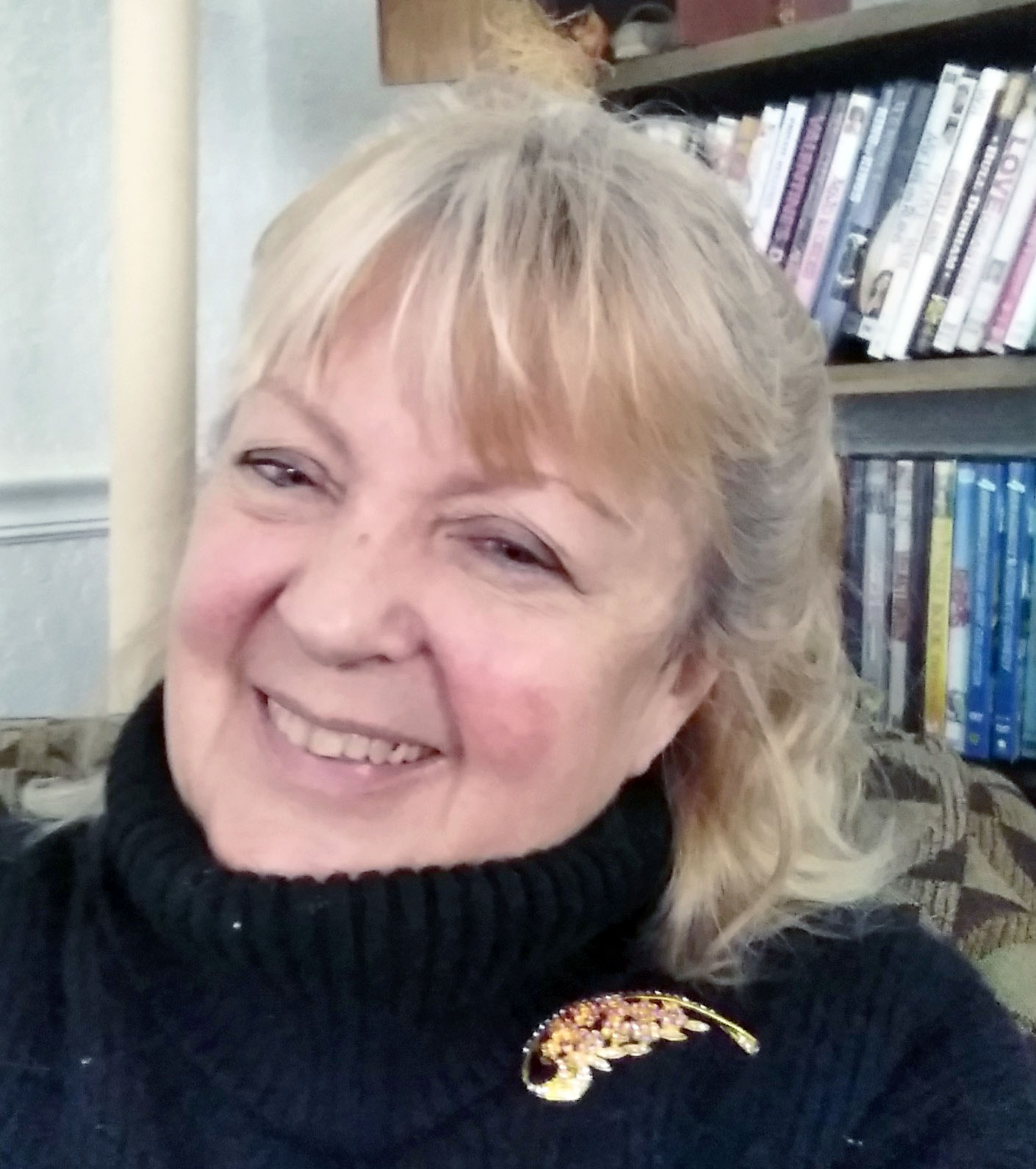 WCDPL OverDrive
Have all of your favorite mind-boggling mysteries, kid-approved children's fiction, swoon-worthy romances, engaging biographies and more right at your fingertips with WCDPL OverDrive.
With WCDPL OverDrive, you can access thousands of eBooks and audiobooks about your favorite topics: sports, history, travel, fantasy, and so much more. All you need is your WCDPL library card and a device, and you'll have thousands of stories at your fingertips.
Ready to get started?
https://wcdpl.overdrive.com/

Thursday, April 8
Patron Testimonial - Brynn Bostic
Our patrons want you to know why they love their library!
From Brynn Bostic of Bowling Green:
The WCDPL Children's Library has played an important role in my family's life. Almost nine years ago, I was new in town and was a new mom. Storytime with Miss Maria was how I found my life-changing group of mom friends.
The Children's library has always been a warm and welcoming place for my family, where I felt comfortable letting my kids roam around and explore. When the library began offering curbside service, my kids were overjoyed. It was like Christmas in our house, going through all the books I had put on hold!
Now that we can safely browse in person in the library, my kids and I have thoroughly enjoyed traveling around the world with the Children's Place curated collections of books about various countries. We started informally with India, but with the success of a week of learning about India, we decided to make it part of my homeschool curriculum for my kindergartener and a supplement to my son's 3rd graders OHVA studies. Each Friday, we would visit the library, choose our next country, and get our passports stamped. During the week, we would read about the country, watch videos to see the country, cook delicious foods, make flags, and interview people we knew from those countries. So far, we have visited India, China, Italy, Russia, Brazil, and Ireland. Our library is the best!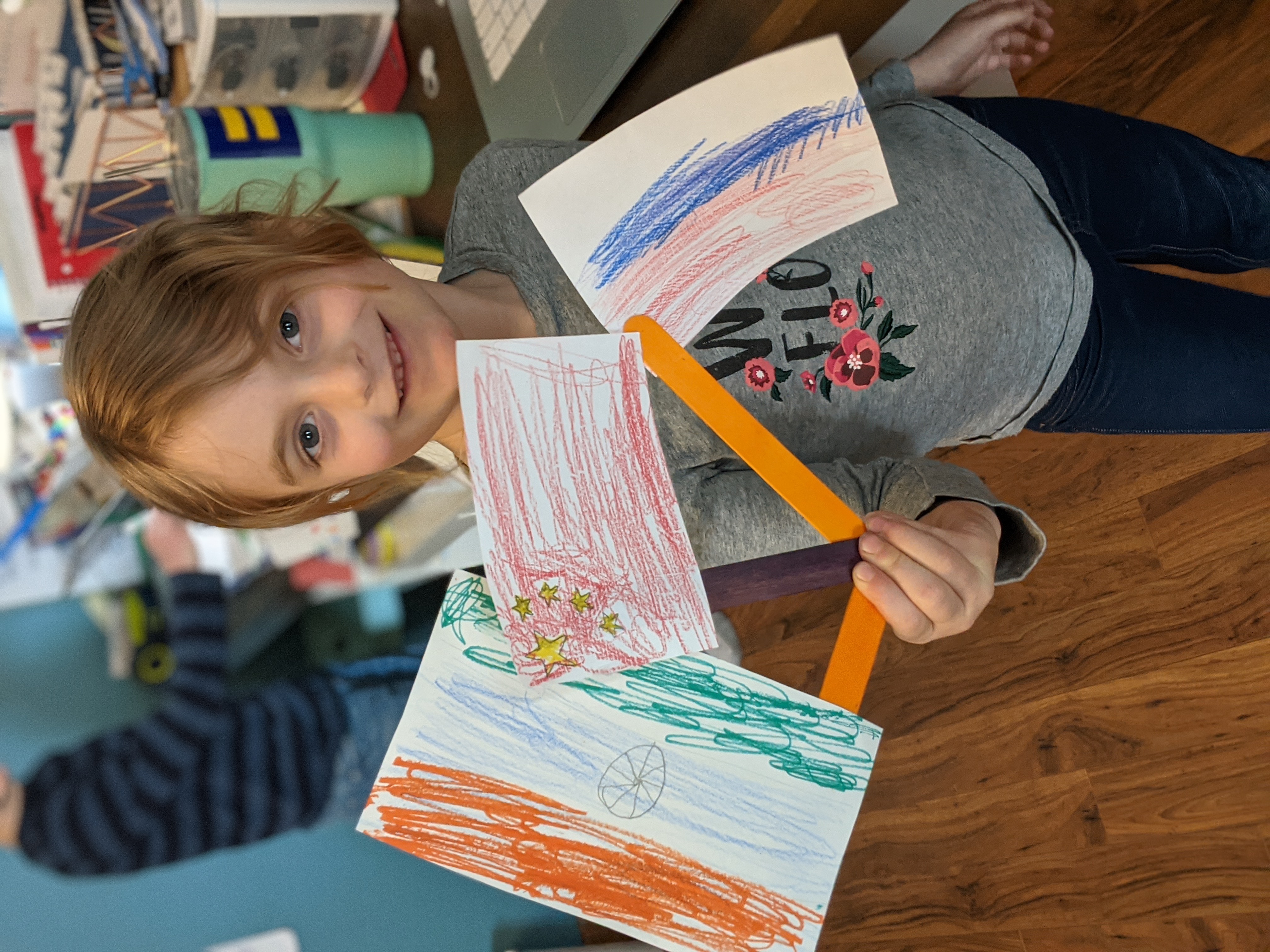 Throwback: Local History Collection & Summer Reading Program
WCDPL has changed a lot over the years, from our Summer Reading Programs to our Local History Collection. Here are some photos from our archives, one being our Local History Collection from 1974; our collection is easily ten times the size now! The other is from our Summer Reading Program in 1988, where kids were encouraged to make mobiles with every book they read being a piece of paper.
Wednesday, April 7
Technology Thursdays
Before the pandemic, our team of dedicated tech experts helped patrons with troubleshooting and tech support. This summer, we're happy to bring that tech support back for our patrons! Technology Thursdays will be every Thursday in May and June from 2:00-4:00 pm; just reserve a spot and our team will meet with you over the phone or via Zoom call to answer any questions you have.

Throwback: Bookmobile Puzzle
On this National Library Outreach Day, we have a special puzzle for you. Here's what our Bookmobile looked like in 1951! Huber Jones (Driver), Grace Williams (Clerk), and Mary Alice Fitch (Bookmobile Librarian) are pictured, standing in front of Bowling Green High School, where the library was located at the time.
https://www.jigsawplanet.com/?rc=play&pid=1a509b736242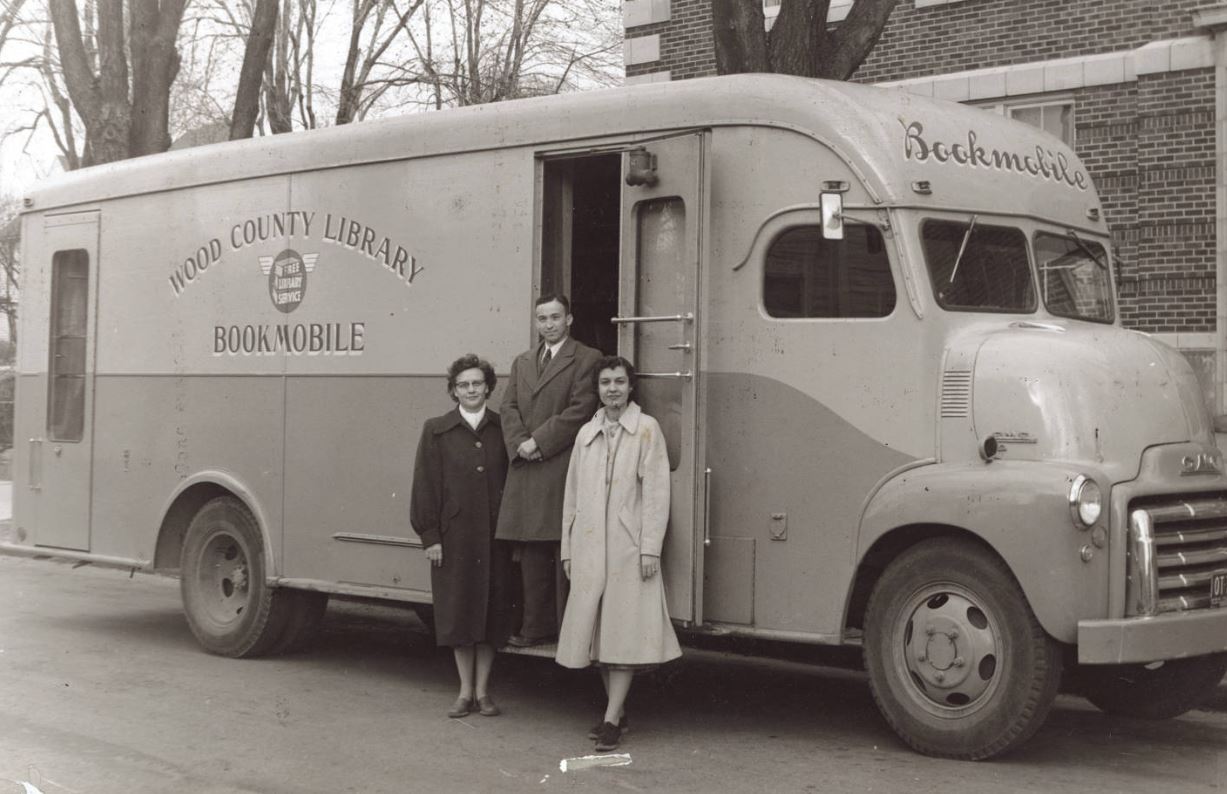 Patron Testimonial - Dawn McCaghy
We have another patron who loves their library!
From Dawn McCaghy of Bowling Green:
The Wood County Public Library staff deserves a big thanks for the creative ways they have continued to serve the community during the COVID-19 pandemic. From curbside pickup to Zoom programs for all ages, they have made possible continued access to their rich collections of books, movies, and CDs. It was a happy day for me when the library allowed patrons to enter the building once more, to enjoy what Ralph Waldo Emerson called "the love of learning, the sequestered nooks, and all the sweet serenity of books." Thank you, WCDPL staff!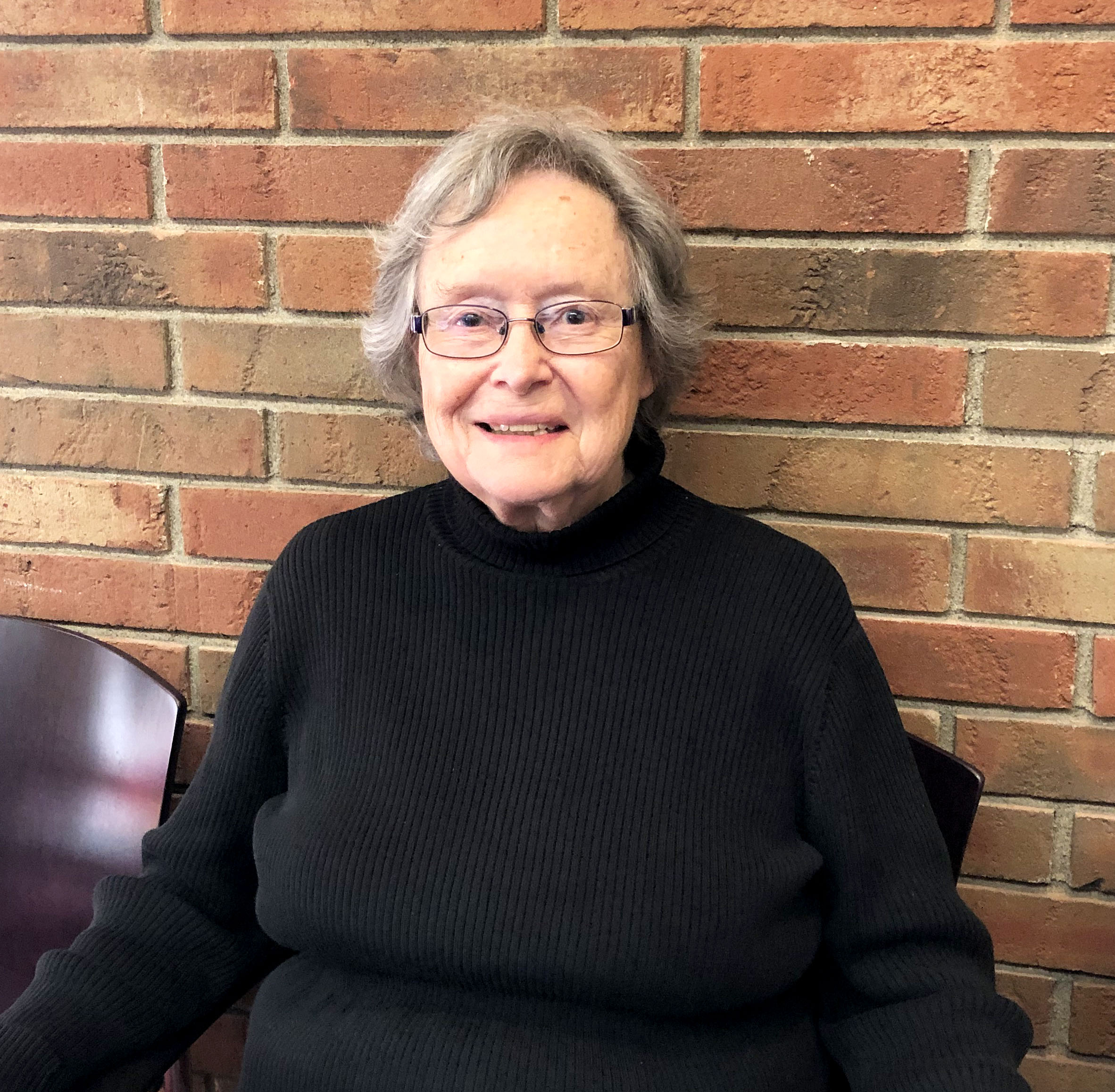 Tuesday, April 6
State Representative Haraz Ghanbari: Welcome to Your Library
Your public libraries help teach children the value of learning and to understand the world around them. State Representative Haraz Ghanbari and his wife routinely take their children to their local library to find new books and engage in library activities. This National Library Week and Ohio Library Week, Rep. Ghanbari encourages you to visit your local library to discover, explore, and learn!
Throwback: Pre-Renovation
Can you imagine what the library would have looked like without our Atrium? Before our renovations, our Atrium was an outdoor space. Check out these photos from 1974 and 1980 before our Atrium was built!
Nominate a Library Worker to the ALA's Galaxy of Stars
Share your favorite stories of our staff for National Library Workers Day today! You can nominate a stellar library worker for the American Library Association's Galaxy of Stars by using the link below. Or, share them in the comments!
Nominate a library worker for the Galaxy of Stars: https://ala-apa.org/nlwd/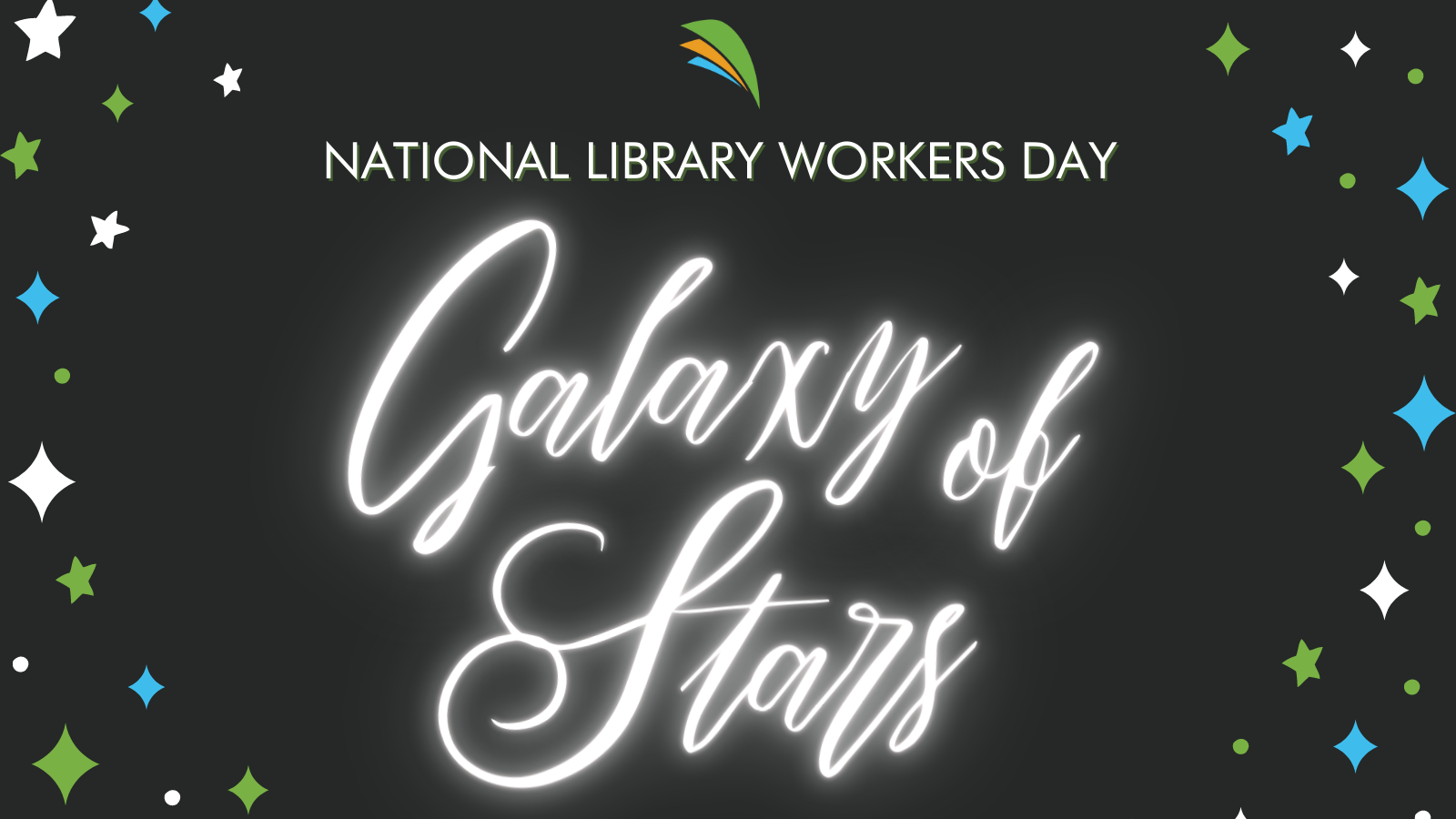 Career Development
The library is your space for career growth and workforce development! We have plenty of resources to help: take free online courses with Lynda.com, search for your dream job with Ohio Means Jobs, or research a company with Business Source Premier. We also have services to help you get your resume to potential employers, like printing, scanning, and email services.
Learn more about our career help databases: https://wcdpl.org/reference
Monday, April 5
State Senator Theresa Gavarone: Welcome to Your Library
Before serving in elected office, State Senator Theresa Gavarone was known as one of WCDPL's library moms, routinely taking her children to storytimes and other library events. During National Library Week and Ohio Library Week, Sen. Gavarone encourages you to use your local public library. Hear from her below as she details why libraries are the cornerstones of their communities. The world awaits!
American Library Association's State of America's Libraries Report
Read how America's libraries have changed and continued to be the cornerstones of their communities with the American Library Association's State of America's Libraries Report.
Patron Testimonial from Betty Winslow of Bowling Green
When everything began to close during COVID-19, I wasn't too worried. I could do without restaurants, movie theaters, and the like, but not the library. I was pleased when they figured out how to safely continue serving the reading public. I've been adding up how much I've saved so far in 2021, according to the check-out slips issued on each visit. $2873.95!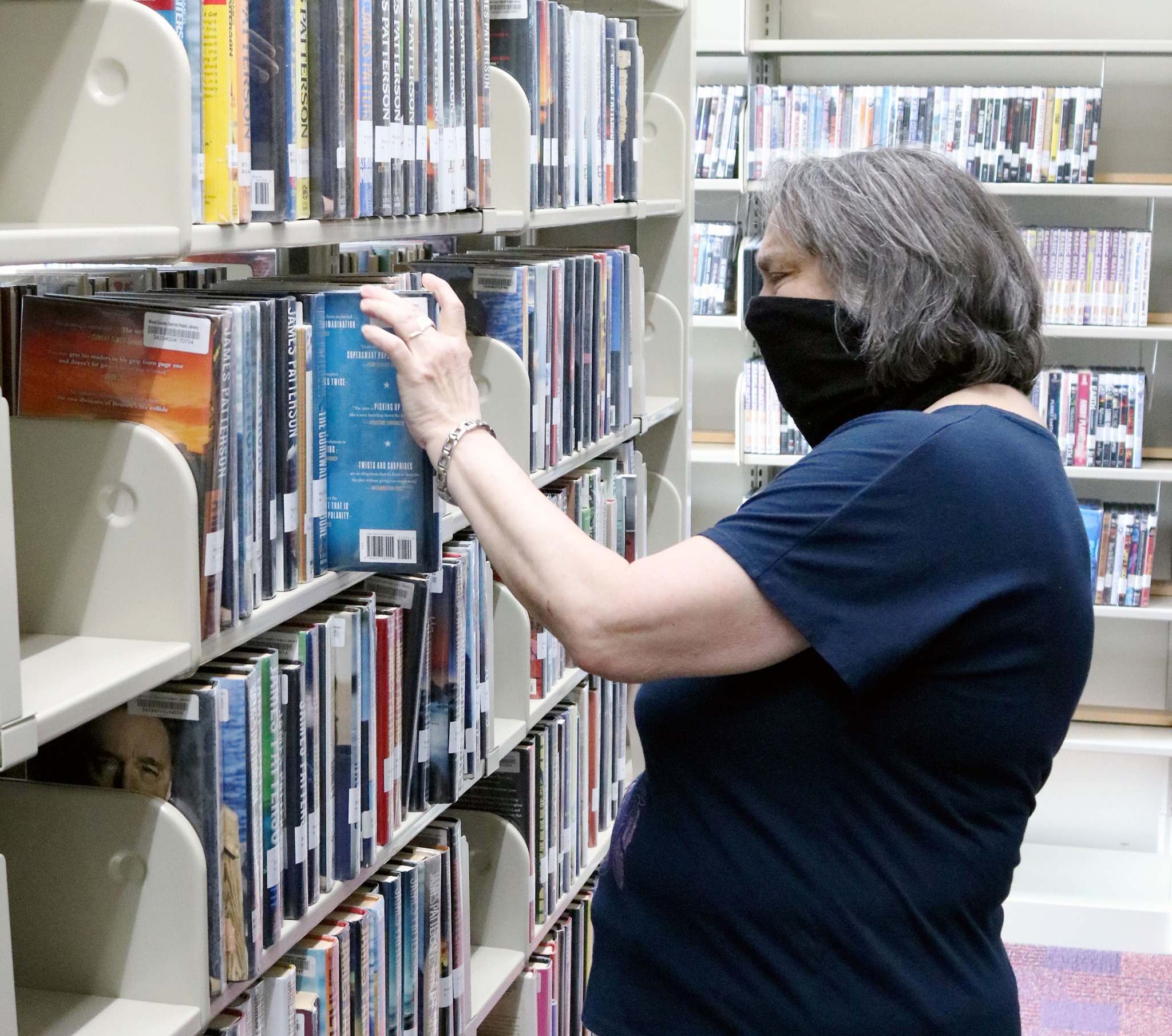 Service Highlight: Early Literacy
Early literacy begins at birth, and WCDPL offers a variety of programs to help families raise readers. WCDPL is a proud partner of Dolly Parton's Imagination Library and the Ohio Governor's Imagination Library, which provide free books to children birth through age 5. At the library, kids can also sign up for our 1000 Books Before Kindergarten Challenge, find book bundles about favorite or new topics, and join us for reading programs and children's programming.
Learn more about our early literacy programs and opportunities: https://wcdpl.org/youth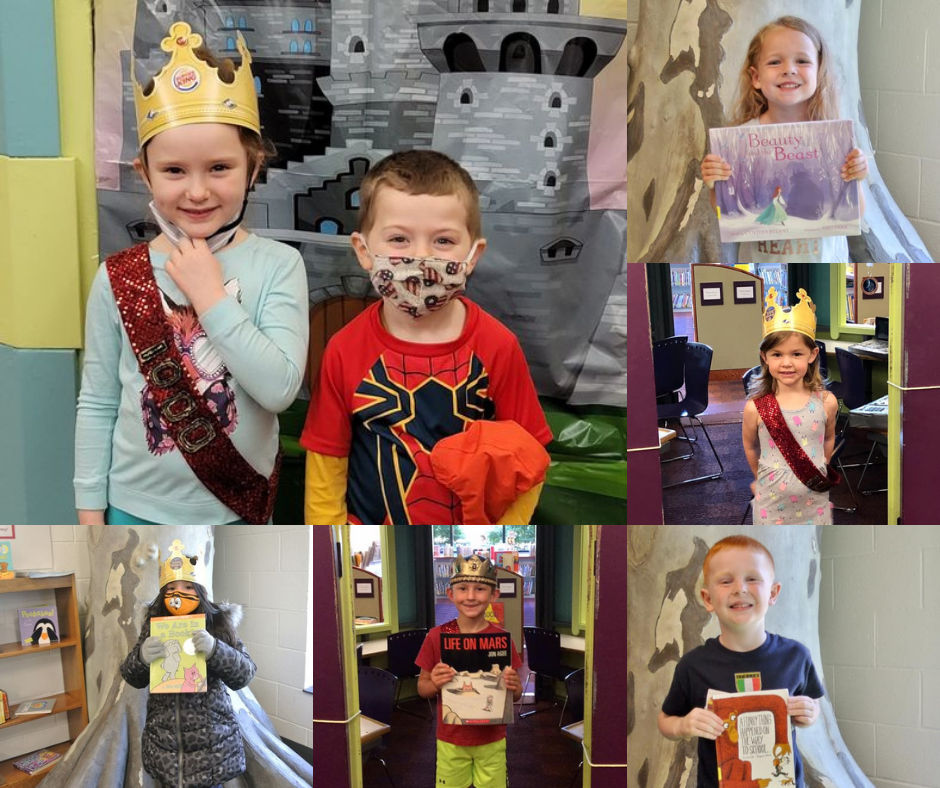 Sunday, April 4
#MyLibraryIs Campaign
What do you love most about WCDPL? The eMedia resources, like WCDPL OverDrive? The great reading suggestions? We want to know how the library has made a difference in your life!
Post your favorite library service and use the hashtags #wcdpl and #MyLibraryIs. On Saturday, April 10, the American Library Association will gather all the entries and one randomly selected winner will receive a $100 Visa Gift Card!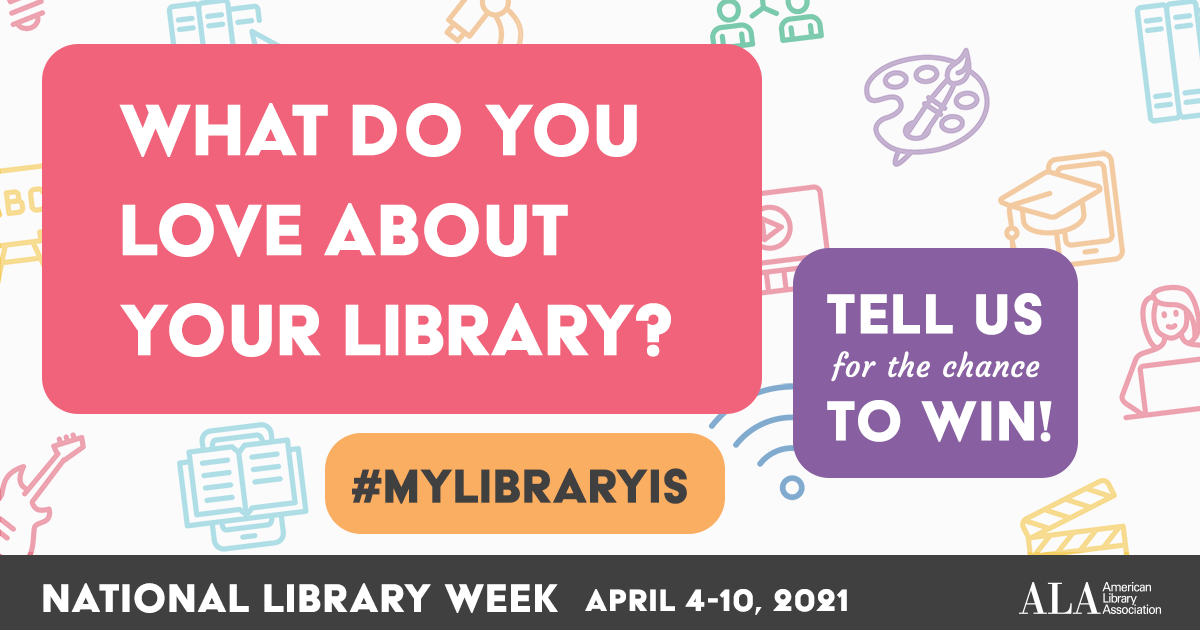 Join Us for National Library Week and Oho Library Week
National Library Week is a time to celebrate and highlight the essential role that libraries, librarians, and library workers play in transforming lives and strengthening communities. This week, we'll be welcoming you to your library as we highlight services, look back on what WCDPL was in the past, and hear from some very special guests and community members.
Join us for National Library Week! Follow us for daily updates and tag us using #wcdpl and #NationalLibraryWeek.