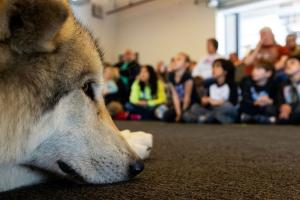 Humans and wolves have co-existed for thousands of years. The tradition of casting wolves in villainous roles in mythology, fairy tales, and literature as a means of teaching lessons is a deep-seated one. But how much of the wolf's "bad guy" reputation is deserved?
Guests—with assistance from an ambassador wolf—from Ironwood Wolves separate fact from myth by looking at not only the family life, habitat, and diet of wolves but also their important place in the ecosystem.
"Who's afraid of the big, bad wolf?" Join us for this program, and you may find your answer to this question is not what you thought it would be.
The Atrium.
----------
Tie-in program: An Evening with Nate Blakeslee, author of American Wolf, September 10, 7 pm. Foundation Series Event.