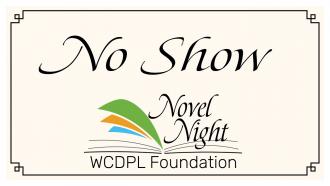 Please know your past support of the Foundation's Novel Night Benefit is greatly appreciated.
This year, with COVID-19 and social distancing, your ABSENCE is requested at our first-ever "No-Show" Novel Night Benefit. Instead of attending the event, we are asking you to show your support for the library simply by staying home.
That's right, no need to worry about buying tickets or auction items, hiring a babysitter, finding a place to park, or wearing a mask! In return, we ask you to consider making a gift in an amount you would normally spend on tickets, raffles, and silent/live auction items so the library's book program will be able to continue thanks to your generosity.
Here are some ways your gift can make a difference:
$100 provides picture books to help families instill the love of reading in our youngest children

$250 provides I CAN READ books to help new readers master the skill

$500 provides children's fiction to excite young minds with strange new worlds, fairy tales, etc.

$1,000 provides nonfiction titles to explore history, art, music, science, and so much more

$2,500 provides literature and fiction to while away days on the beach or nights by the fire

$5,000 provides audiobooks for the busy commuter or those with vision difficulties

$10,000 provides all of the above plus e-books and digital content to serve 24/7 reading demand
To support this wonderful "No-Show" evening, use this link to the No Show Novel Night Secure Donation Form.
Alternatively, you can mail a check payable to WCDPL Foundation, 251 North Main Street, Bowling Green, OH 43402. Please put "No-Show" in the memo line.
So kick back, relax, enjoy a new book, and feel good knowing that your contribution will make a big difference in the lives of local readers young and young-at-heart.
Thank you!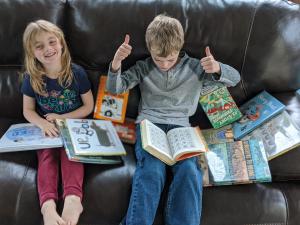 We want to thank those who have stepped up to sponsor the No-Show Novel Night Benefit. Your support makes a difference. Every dollar donated will buy new books for the library.
Anonymous
Robert & Patricia Maurer
Al & Mary Green & Family
Joseph & Judith Conda
Christopher & Ellen Dalton
Friends of the Wood County District Public Library
John Fawcett & Kris Phillips
Ken & Pam Frisch
Maggie Fawcett & Bryan Hartzler
Mike Kuhlin
Mike & Terri Marsh
Michael Penrod & Kenneth Housholder
John & Debbie Strawman
Wood County Insurance Agency, Inc.
Joe & Peg Baker
C.J. Barnes
Becky Bhaer
John & Alice Calderonello
Richard & Nadine Edwards
Chris & Jean Geist
Milton & Lee Hakel
Sharon Hanna
Hartung Brothers, Inc.
Alexander Penrod Housholder
Judy Hudson
Joseph & Elayne Jacoby
Carol W. Jones
Melissa Krieger
Mr. & Mrs. Leonard Lepper
Carl & Kay Lipp
Jonathan Main Plumbing, Heating, and Cooling, LLC
Carole Matthews
David Maurer
Penelope McMorris
David & Susan Potter
Shad Ridenour
Roger & Barbara Sanchez
Teri Sharp
Michael Sibbersen
Deb Smith
Jeffrey & Lee Anne Snook
State Bank
Bob Stout Insurance Agency, Ltd
Jenny & Brian Swope
Josephine Vernon
Kristin Wetzel
George & Susan Winters
J. Kevin & Marsha Yarnell