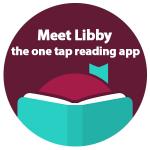 To download eBooks or other materials from the Ohio Digital Library catalog, you'll need a valid library card from WCDPL, or other Woodlink library, and your PIN (usually the last 4 digits of your phone number).
The Libby app from Overdrive makes downloading and reading eBooks from your tablet or phone easier than ever. Learn more about Libby here and download the app from App Store for iOS devices, Google Play, or the Microsoft Store.
For lists of compatible devices and computers and compatible audio devices (including information about and links to various apps for your device) follow this link: Supported Devices
Need help downloading materials? Instruction sheets for some of the most popular devices are at the bottom of this page. Additional information to further assist you with using digital materials may be found here.
As always, if you don't find the answer you need, call the library at 419-352-5050, or stop by--we're here to help.
Want still more eBooks? Follow the link to "Download Comics, Videos, Music, & Audiobooks" and discover eBooks that are always available without any waiting from Hoopla.