The Board of Trustees presents the John M. Gibson Outstanding Performance Award annually to a member of the WCDPL staff in recognition of excellence in the performance of their job. ​
Deadline for 2019 nominations is noon, Friday, June 28. Nominations may be made in two ways:
Fill out and submit the online form below.

Download a hard-copy version of the 2019 nomination form from the attachment link below and return the completed form to the library.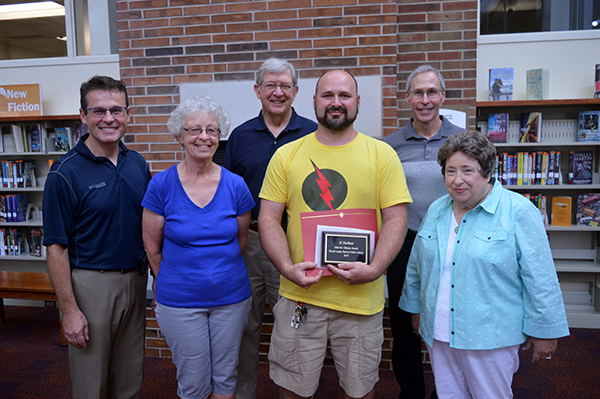 JJ Hofner received the Gibson Award in 2018.
Past recipients of the Award are: Mandy Hackley ('05); Mary Callahan Boone ('06); AJ Heilman & Donna Mertz ('07); Deb Born ('08); Kristin Wetzel ('09); Linda Conrad ('10) Maria Simon ('11); Nancy Weiland ('12); Katherine Lawn ('13); Anne Render ('14); Matt Mehling ('15); Victoria (Vicki) Forgette Scanlan (2016);Tara Bahnsen (2017); and JJ Hofner (2018).
While the official review of nominations takes place prior to the library's annual in-service day, nominations may be made at any time in person at WCDPL in Bowling Green, the Walbridge Branch Library, or from the Bookmobile; online nominations may be submitted by using the form below.
Any library employee (except the library director and assistant director) may be nominated for the John Gibson Award.
The 2019 John M. Gibson Award will be presented and all nominees recognized during a special program as part of an all-staff training session on Friday, August 16.
Please direct questions to Michael Penrod, Director, 419-352-5104.